"Refreshing! Surreal experience!…" These were the words that escaped my mouth as we left Cintai Corito's Garden.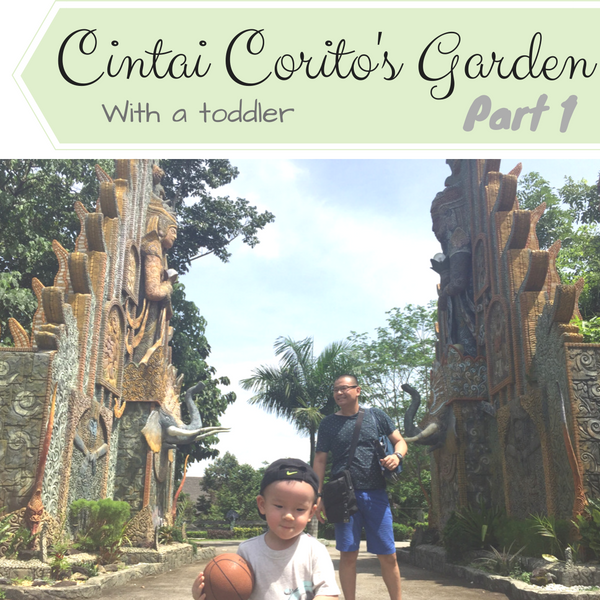 Few months back, I solicited ideas at the glam-o-mamas FB page for local child-friendly vacation places where we can celebrate my birthday. I got an uncommon suggestion – "Cintai Corito". I immediately checked out their website and the words "Balinese-inspired" and "Free roaming animals" caught my attention. I went to deal-grocer, bought a P4,500 worth coupon for an overnight stay at a Deluxe Villa in just few clicks.. done! I thought that was quite an impulsive purchase, but nevertheless I was so excited!
Since we bought a coupon, we had to book for a Sunday-Monday stay. We left Makati late in the morning and arrived Cintai Corito's Garden (which is just located in Balete, Batangas) after an hour. Little P didn't fall asleep at all. I was hoping he could sleep so he'll have full energy once we've arrived. I guess the view of the province mesmerized him too much though that he didn't have the interest to even blink an eye. He was in awe of the view outside – the trees, mountains, and clouds.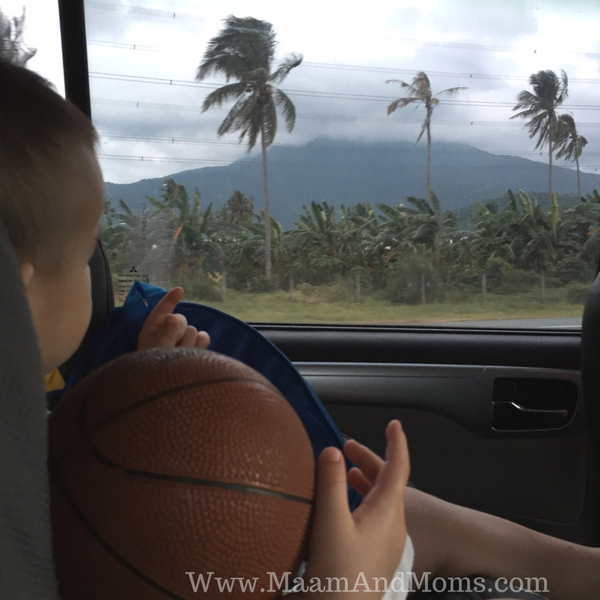 It was a very quick travel. SLEX-ACTEX-STARTOLL-EXIT then a 4 km travel, we arrived after an hour! I sighed in relief when I saw the entrance. In my mind, this could be my best impulse purchase!
As we drove our way to the parking space, we were already starting to see a glimpse of the "free roaming animals". Seeing chickens and ducks for the first time, Little P screamed with excitement. (He already knows he will see animals so he was really anticipating it. It's our practice to always orient him in advance on what to expect in our trips or even with his daily activities. This lessens tantrums, increases excitement, etc).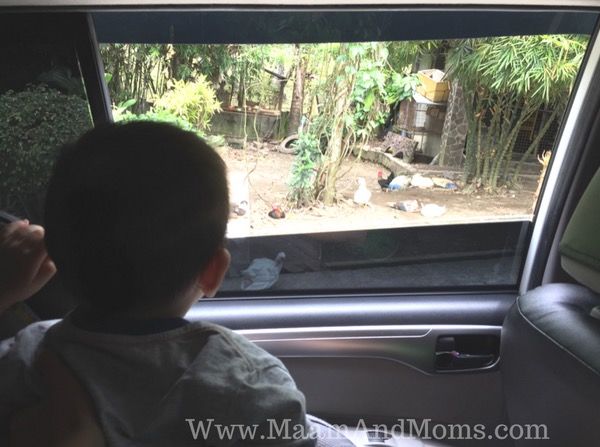 They dropped me off at the reception area to have our coupon validated while my husband and Little P went to park our car. The staff members were very courteous and helpful. They gave me a map of the area so we can go around first since it was still early for us to check-in.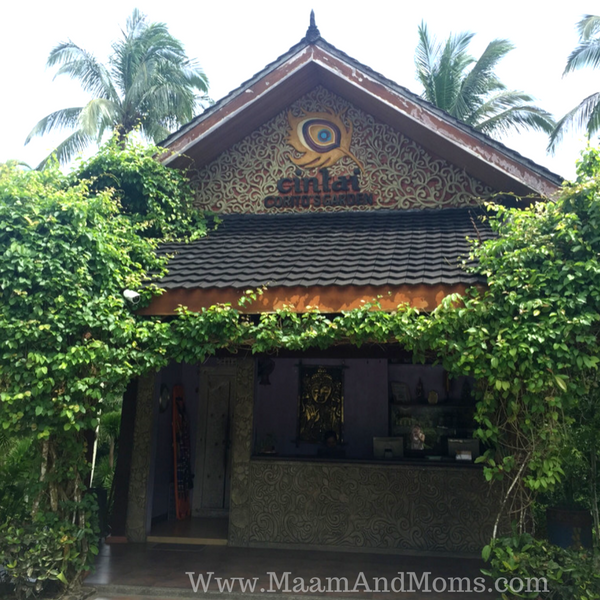 I looked for the parking lot to join Papa and Little P and got more excited when I saw 2 ponies (which I later on found out one of them is a cross breed between a horse and a donkey) across where we parked!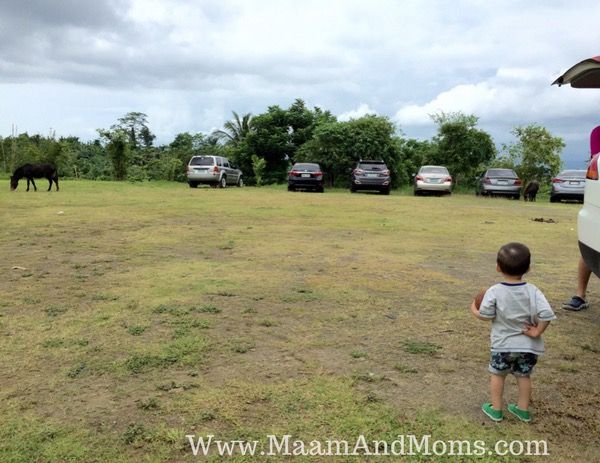 As if welcoming us, the pony approached us! Little P kept on saying "Eat grass!" as he watched the pony eat. He asked to be carried because he got a little scared when the pony came closer to him.
From the parking lot, we headed to the main garden. We were greeted with this view of nature. A bridge connected the cemented area to the main garden area.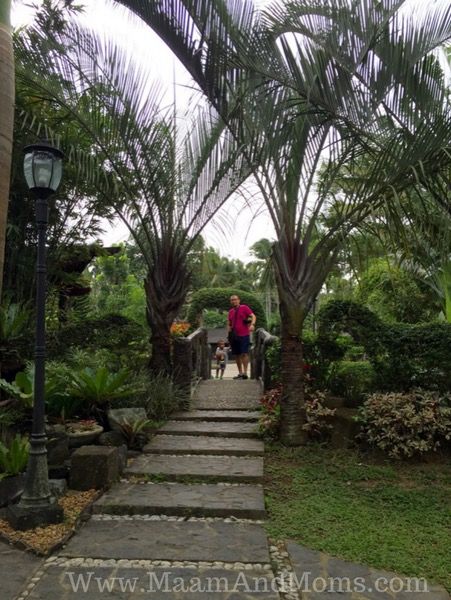 We decided to have our lunch first at their restaurant. We didn't really have a choice but to avail of their lunch buffet. According to their staff, à la carte won't be available until 2pm. There was soup, rice, vegetable, pasta, beef, a roast pork carving station, and fruits for dessert.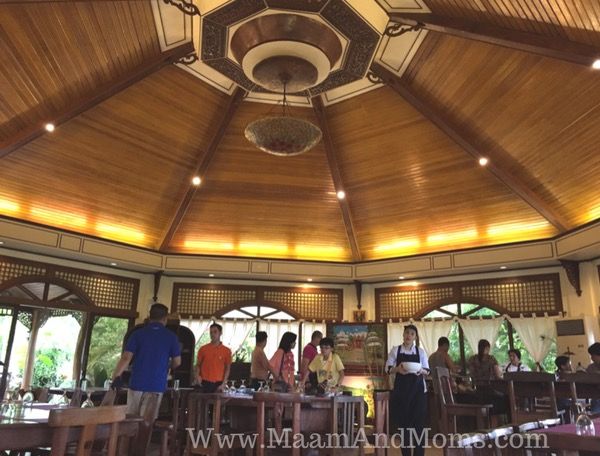 The food was average but who wouldn't want to eat with a view like this? (Thumbs up for having a high chair !) Little P kept on calling the rooster that went back and forth to where we were eating.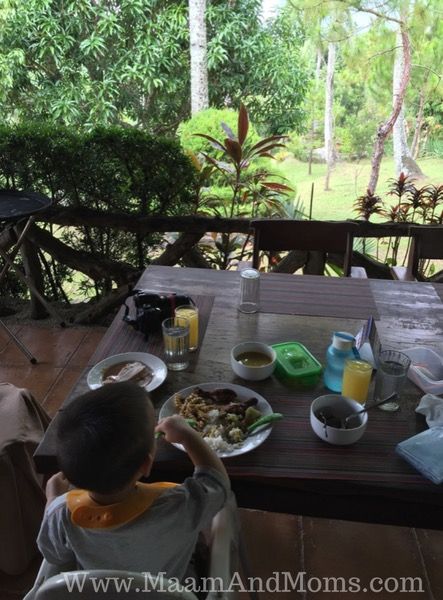 After our meal, we planned out our route since we were told that it's a huge garden. This is Little P looking as if he understood the map.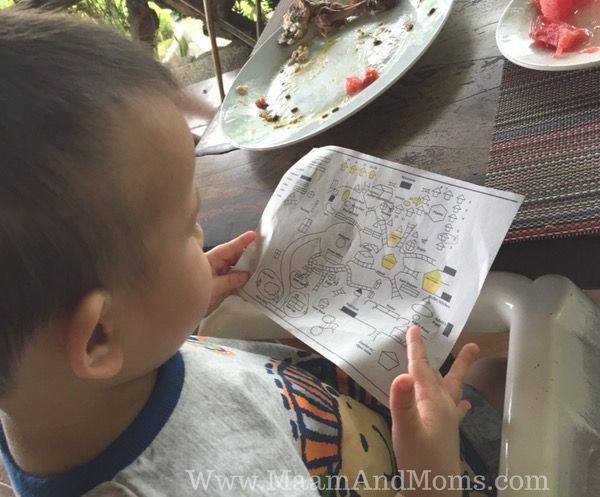 First off, we visited the eagle. It was a huge cage ! We stayed for a while hoping the eagle would spread its wings and fly but it didn't. We then made our way to see the peacock. The vast grass area leading to the cage was very inviting ! It made me want to just spread a picnic mat, lie down, and listen to the sound of nature.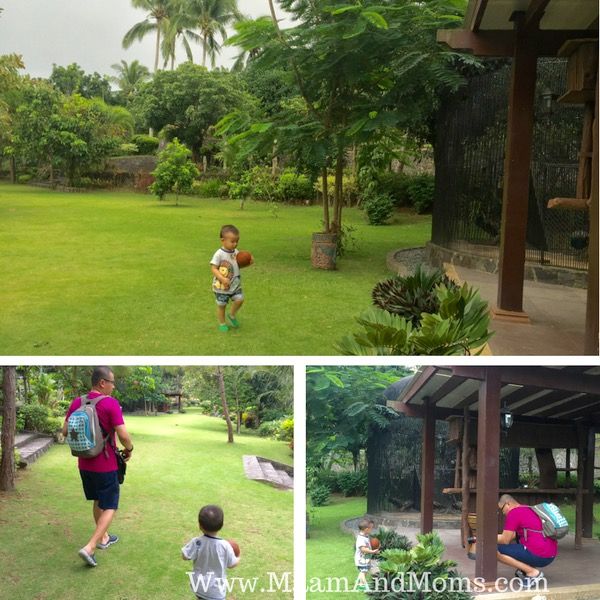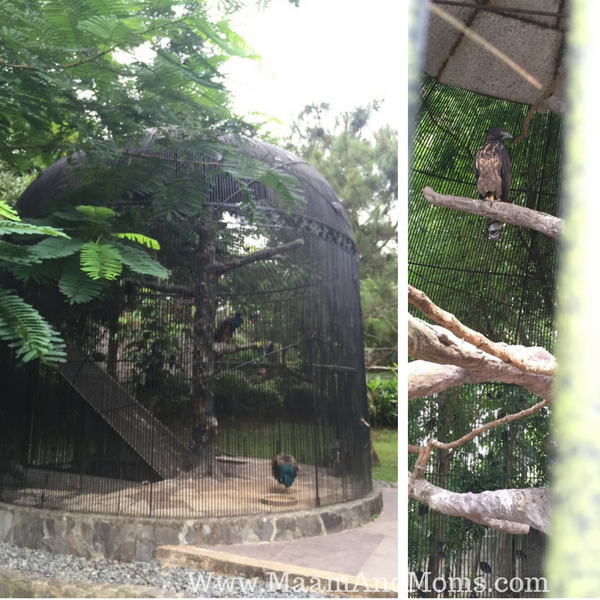 We took our time going around. We were enjoying every bit of nature. It was a pretty clean place so it added to the serenity that nature brings. You will see some animal poop which I think is normal since animals are freely roaming here. We picked up peacock feather too! Here's Little P playing with it as we continued to explore the garden.
Almost everything is Balinese-inspired. Here's one of their pavilions! Even the trash can is thematic!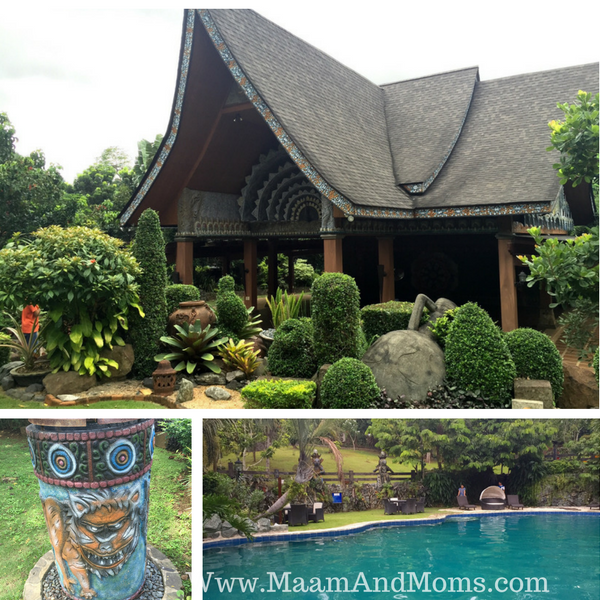 We didn't really want to rigidly follow a route so we just continued going around until we saw their swimming pools! We saw two of their swimming pools – one for adult and one for kids. Right beside the pools is this playground! Little P enjoyed going up and down the slide until we got a call that our villa was ready. Their staff assisted us with our things and we were guided to our villa.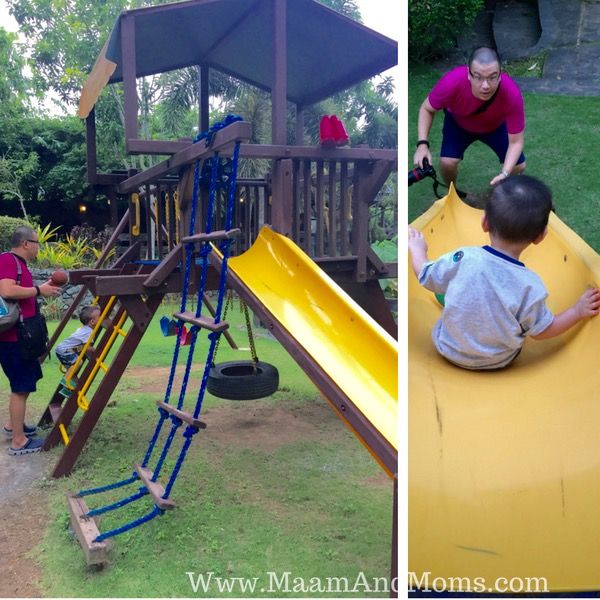 This is outside the villa assigned to us! I can't contain my excitement because the setup makes me feel really close to nature. It's like camping but with air-conditioner and comfortable bed.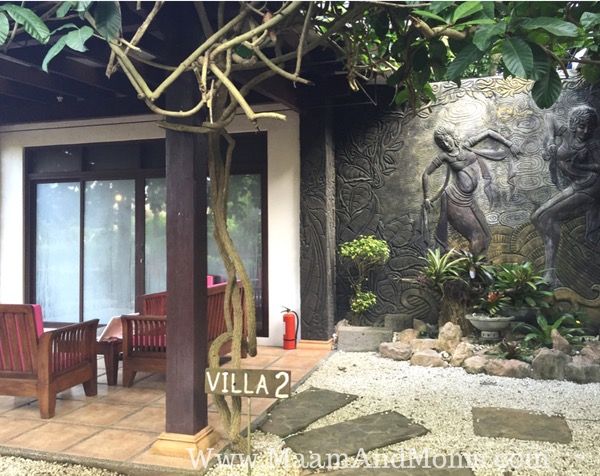 This was our room! Two spacious beds, spacious bathroom, and ample space for Little P to move around. We loved it! It was just a sliding door away from nature! We made sure to always close the door to make sure we don't invite mosquitoes or other insects in. I love that it didn't have any TV inside which encourages people staying here to have more bonding experiences. The data signal inside was also weak. 

Even if the place was far from Little P's usual play area, he felt comfortable. He spent his time going around inspecting the bathroom, the side tables, then just doodled on his notebook while we unpacked our things.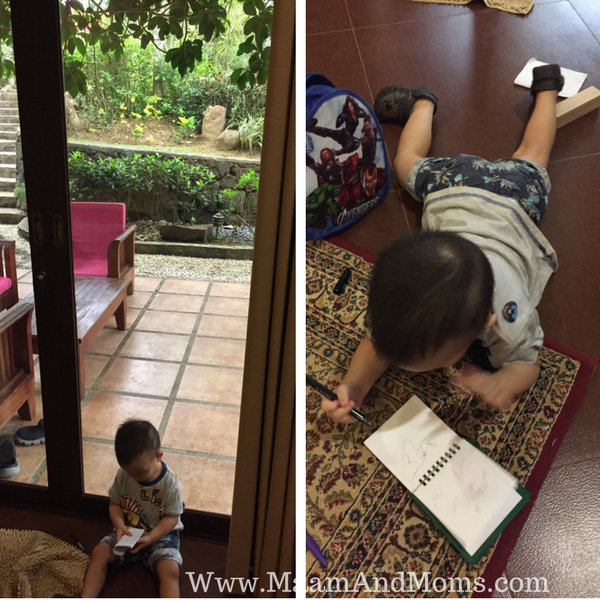 After unpacking our things, we headed to the pool for a swim! They have shower areas but we chose to take a bath in our villa since it was just a short walk from the pool.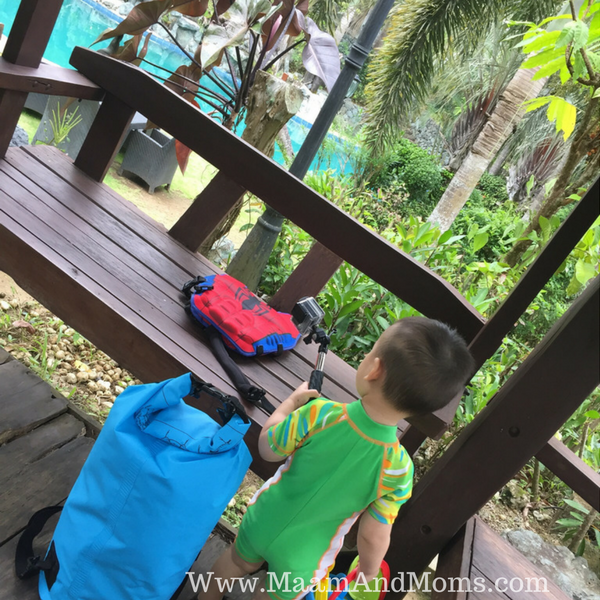 On our way back, we felt ecstatic when we saw a peacock right at our door step! It wasn't spreading its beautiful feathers since according to the caretakers there, it's not the season for it because the peacocks were shedding their feathers when we visited. We nevertheless enjoyed this close encounter with the peacock. Little P spent quite some time "taking photos" of it, knocking the door, and just staring at the peacock. (fast forward to few weeks after our vacation, he just told me one breakfast morning "peacock! flower on top!" while pointing to his head. He never said anything about the peacock's head during our stay here so I didn't really know if he noticed it until that morning.)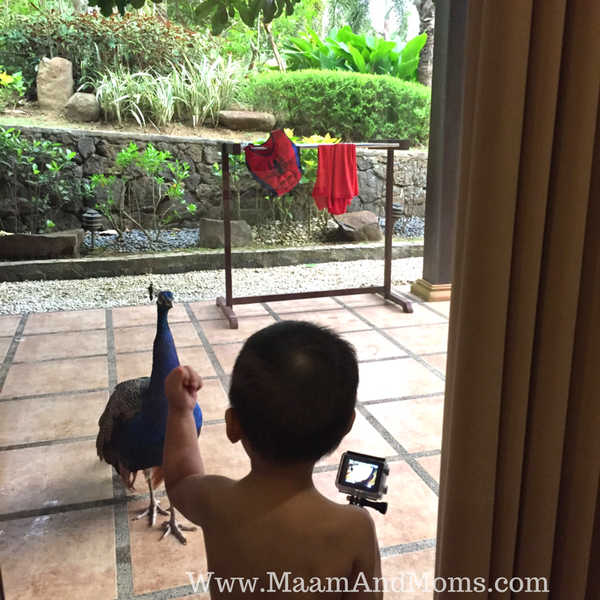 After taking his bath, it was still early for dinner. We didn't want him to take a nap either since it was already late in the afternoon. The staff from the restaurant took our orders for dinner so we can just proceed to the restaurant at the time we wanted to eat.
He spent the rest of the afternoon painting. We brought with us a painting canvas, his tempera paints stored in his paint cups, his toddler brush, and artist brushes. This was his first time to paint al fresco. I guess it made some impact since it's my first time to see him making these strokes. They looked like Chinese characters to me.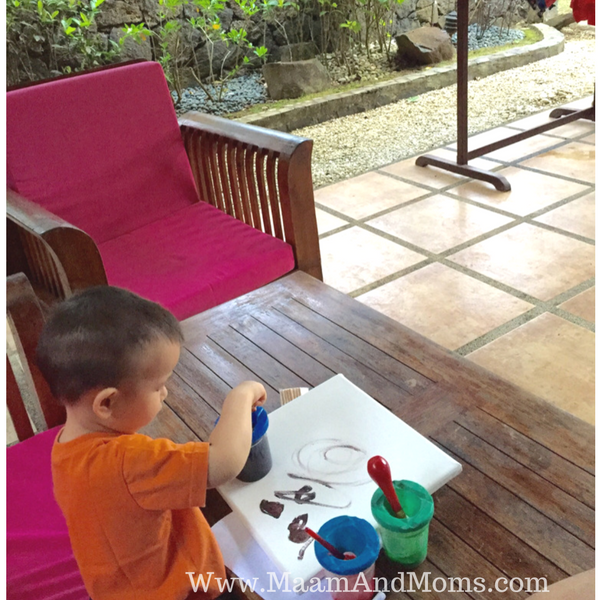 We just allowed him to paint and saw him painting with new strokes. His finished painting looked like a red bird shedding off feathers or maybe flowers shedding off petals. I asked him though what he painted but he just said "painting". Until now, it remains to be an untitled painting. It's currently displayed in his room and I'm expecting him one day to name it just like his other paintings at home.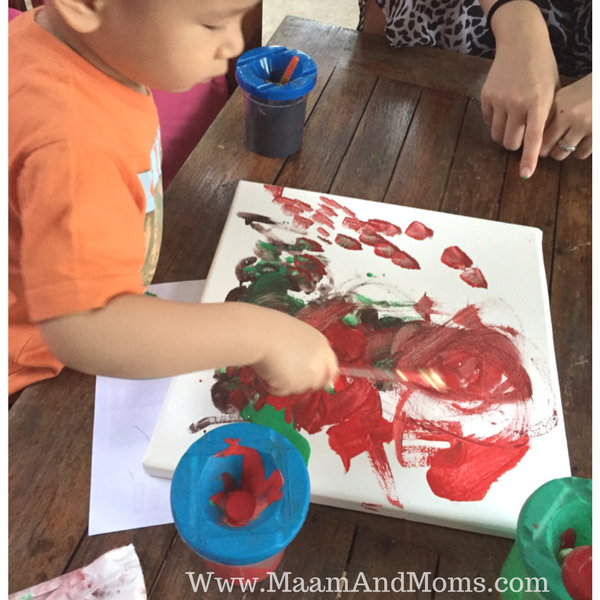 After painting, there was very minimal cleanup since our paints are washable. We just wiped with baby wipes and cleaned his hands with soap and water. We went to have dinner al fresco, capped off the night with lots of cuddling.
It was a fun-filled first day! It was what I was looking for in a vacation away from the hustle and bustle of city life. In my next post, I describe Little P's experience feeding the animals, riding the pony, and our exploration of the rest of Cintai Corito's Garden.