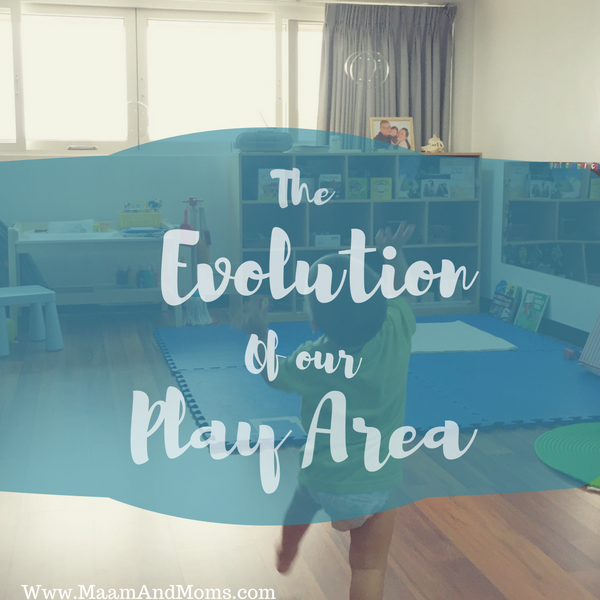 As a progressive preschool teacher turned mom, I take play seriously and it's probably one of the reasons why at 21 months, Little P's play area already went through more than 5 changes.  It evolved from a plain play area to a Montessori-inspired one. These changes were based on the following factors:
his developmental milestones
his response to the setup
my growing interest for the Montessori approach
My original vision of a child's play area has always resembled that of a preschool classroom – one with spacious mat area, mirror, toys and books that are within reach.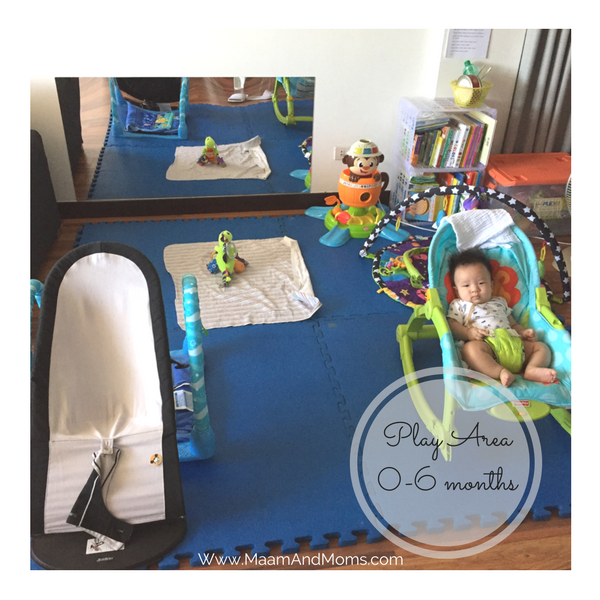 If we were to have our next child, I won't follow this setup again. (More about why in my future posts) This lasted for approximately 6 months until he learned how to crawl. I started to spread cushions and crib comforters everywhere, thinking they might protect him from bumps as he learned how to crawl.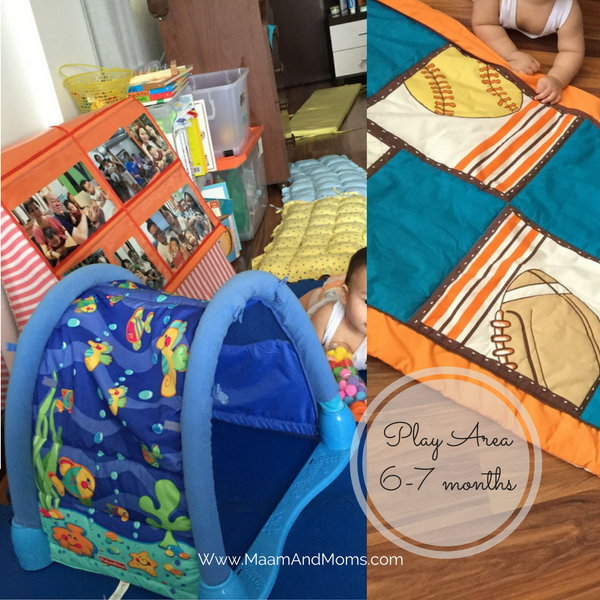 He crawled more and more that you will see him everywhere but his mat.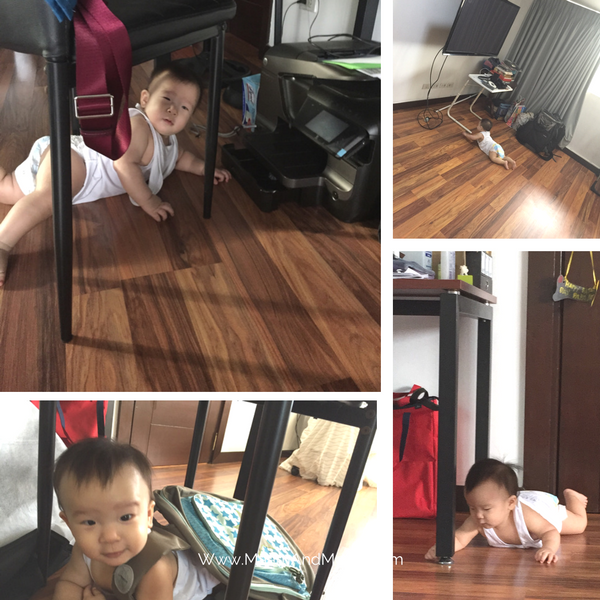 Since he would always end up near our room's door, I had to use his crib to block his mat so he will need to first make a turn to actually reach the door. This was also useful for him to practice standing up.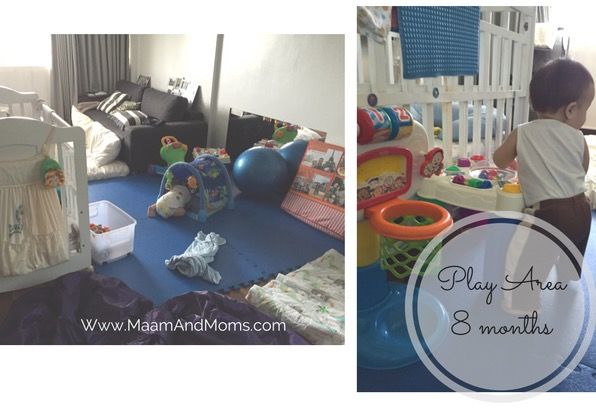 As you would notice, we never used safety gates. We did search for gates that would fit our room, but I never felt at ease putting him "behind bars". I felt that he's happiest exploring when he has freedom. But I know I just have to provide some limits and safety precautions to this freedom. We just worked around what we had during those times and those were our cushions, wedge pillow, bean bags, crib, and sofa bed.
He was 9 months when I came across the blog of Mars where I was first introduced to the concept of applying Montessori at home.  I learned about the Prepared Environment wherein the environment can be designed to promote independent learning through exploration by the child. One of the principles of which is the structure and order in a child's environment.  This led to another change in his play area.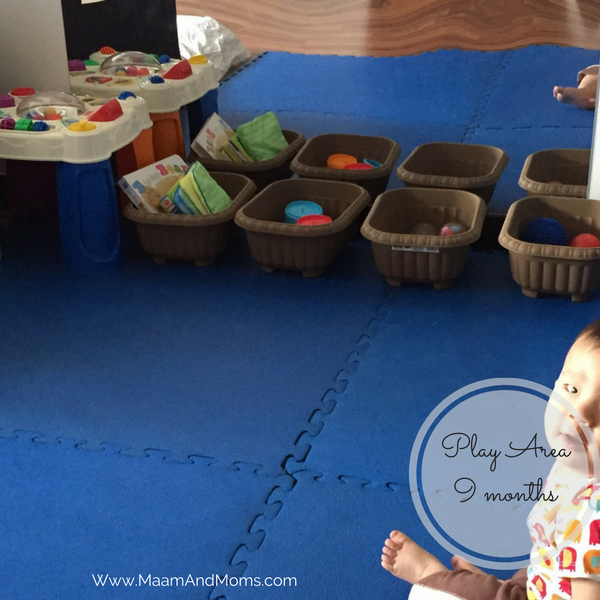 I bought baskets to organize his toys and books. This was also the time when I first introduced him to packing away his toys (more about this in another post).
It's not too long when we made another major rearrangement of his play area. He was already more mobile during this stage so there's more risk in our old setup. We still want him to have freedom to move and explore but again, we want to set a limit.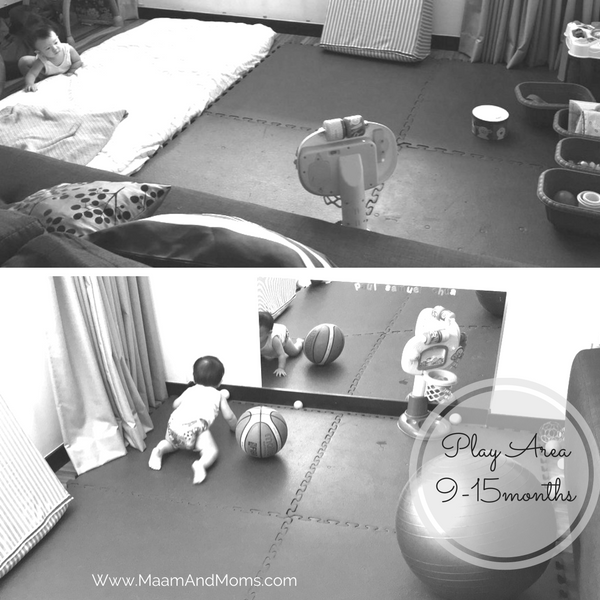 This setup lasted for at least 6 more months when the preschool teacher in me once again kicked in. I thought it was time that we introduce him to the small table and chair (in Montessori this is introduced way earlier) so we purchased an IKEA MAMMUT table and chairs at the Furniture Source for him. His play area was already cramped and his books (mostly from The Learning Basket) in one corner started to pile up so it wasn't really a good idea to put the set of table and chairs here.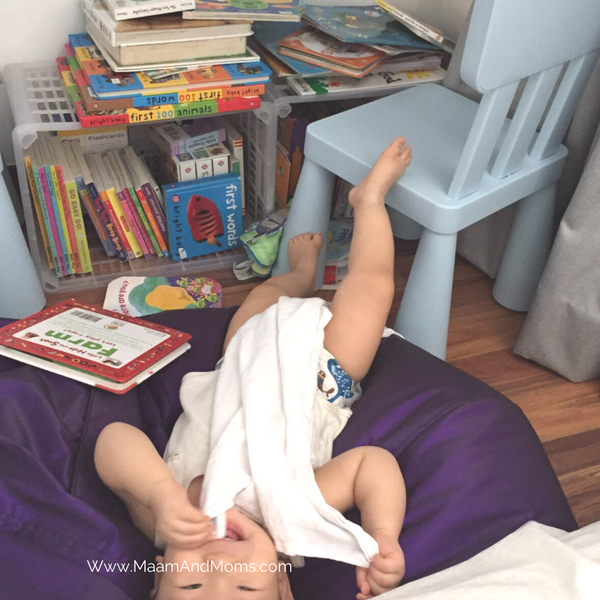 His play area didn't look orderly anymore. This prompted for a major change in our setup. We made the decision to finally add a very essential furniture in a Montessori environment – shelves.
We had 2 kinds of shelves customized and while waiting for them, I prepared our space to accommodate them.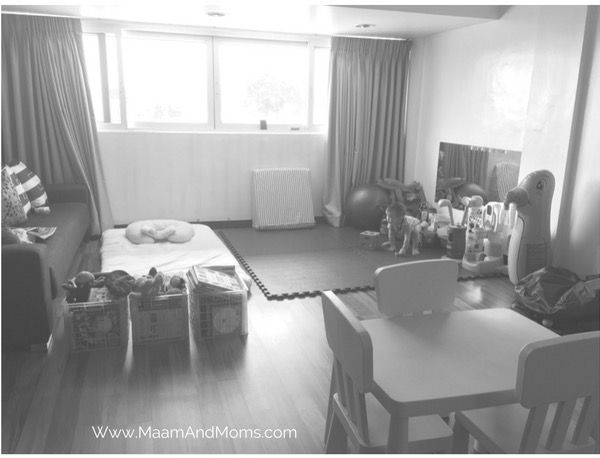 When we got the shelves, I finished setting up in one night !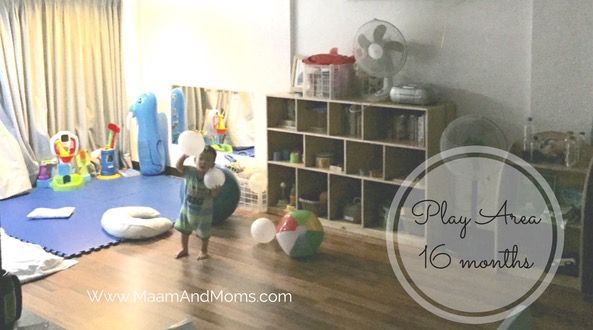 It was definitely one of our smartest purchases. There were still cluttered portions but more importantly there was structure and order. Packing away instantly got easier.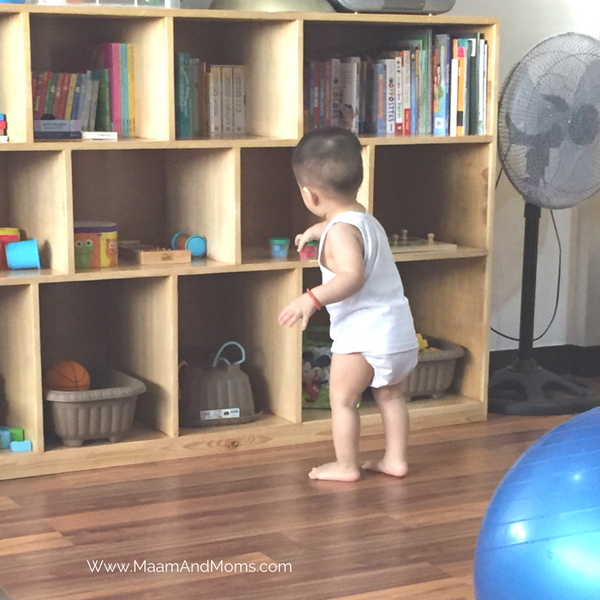 I noticed however, that he seemed to not really mind the toys and materials on his shelves as frequent as how I was expecting him to so I experimented on making a division – 1 area as his work/reading area and 1 area for his table and for more gross motor works.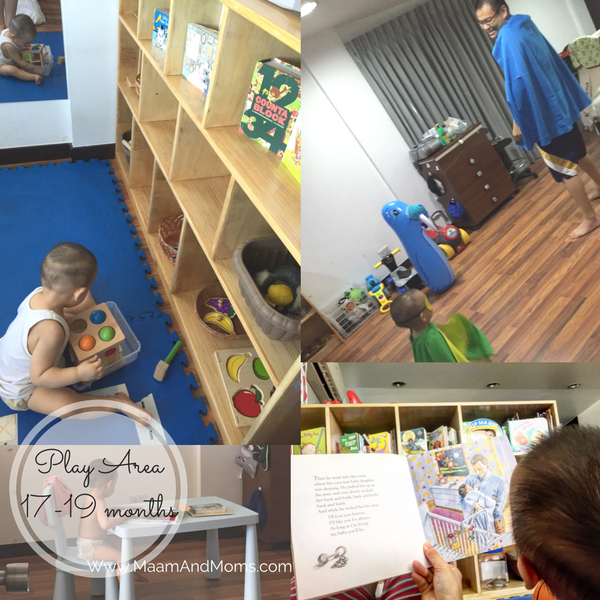 Following the principles of Montessori approach, I spent more time observing little p to know his interests and the sensitive period where he was in. He did not seem to show much interest in his work shelves even if I would rotate his toys. I figured it was probably because he was in the sensitive period for movement. This was also the time when we decided to purchase the IKEA FLISAT desk since we moved his MAMMUT table to our dining area (more about his other prepared environment in future posts). I felt an itching need to rearrange again to address these factors.
To maximize our space (thanks to Mars for her inputs), this is now our play area.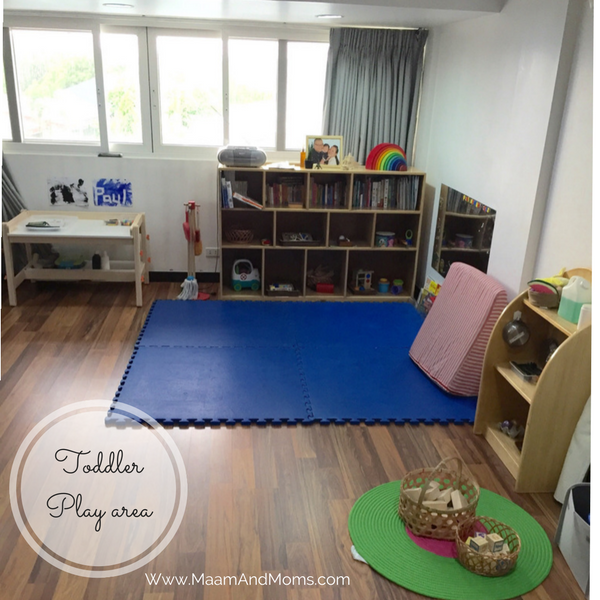 To date, this Prepared Environment has been working for us. Our space is maximized and it achieves our goal for him to have a space that encourages exploration and independence.
From rearrangements involving our existing furniture (crib and sofa bed) to purchasing Montessori-inspired furniture, it was definitely worth adapting the environment to his needs. His play area will definitely continue to evolve, but it surely will continue to be inspired by Maria Montessori's principles of prepared environment. This is how serious we are about his work and play. As in Maria Montessori's words, "Play is the work of the child".