---
---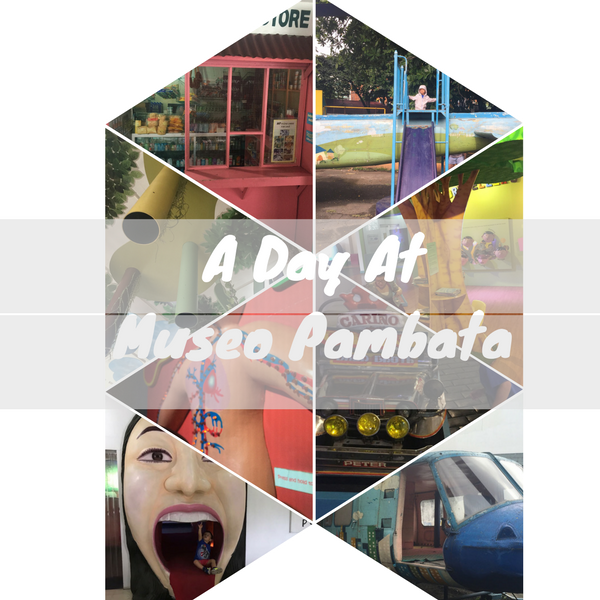 Lately, questions about sending Little P to school started to be more frequent. I considered and am still considering sending him to school but I feel quite uneasy sending him to school this early (he's 2.8 as of July 2017). A daily schedule of 3-hour class in a 4-cornered room plus daily traffic going to and from the school sounded so limiting and stressful (for him and may be for me since I'm his driver) for his age. I felt that at this age, he needs more freedom to explore his environment —– that is, to wander and to wonder. So instead, I became more active in scheduling a weekly learning trip for him. Good thing he has a cousin whose age is just a few weeks apart from him. Both of them don't go to school yet so I decided to invite her to our trips!
Last week, we went to Solenad for a boat riding experience, Koi-feeding, and lots of running time in the grass. For this week, we went to Museo Pambata. I chose this place because I have been to a field trip with my students here back when I was still a preschool teacher. I think it is age appropriate and a place that Little P can already understand compared to the more popular Kidzania. Read on to know about our experience!
****Pardon my photos as I was really trying my best not to make this trip about photography but more for learning and exploration.
His age when we visited – 2 years and 8 months
Time we stayed there – 10:30 am to 12:00nn (they have a lunch break from 12:00nn- 1:00pm), 1:30-3:30. We spent approximately a total of 3 hours. We went there on a Wednesday. There were just a few of us so there were no waiting times for us.
Ticket Price – During this time (July 2017), they were offering a P150 discount coupon on their website. Just print the discount coupon to get the ticket at this rate. For their regular rates, see below details from their website:
Php 250 (for children 2 yrs old and above and adults)
Museum workers and teachers (with valid IDs) – FREE
Manila residents (with valid IDs) – FREE on Tuesdays
50% discount on other days (not applicable for group tours)
What's inside?
There were nine (9) sections in the museum including the playground. The topics covered are almost complete! It has topic about a child's self, environment, community, country, world, and the planet!!
1- Maynila Noon / Old Manila
This is the first place we went to and the kids' energy levels were still at its peak! You will see here a glimpse of Old Manila from the transportation (Jeepney and the Tranvia), structures (miniature cathedral and bahay na bato), furniture (antique crib, table, aparador), household items (flat irons, stove, typewriters) and down to the clothes they wore back then!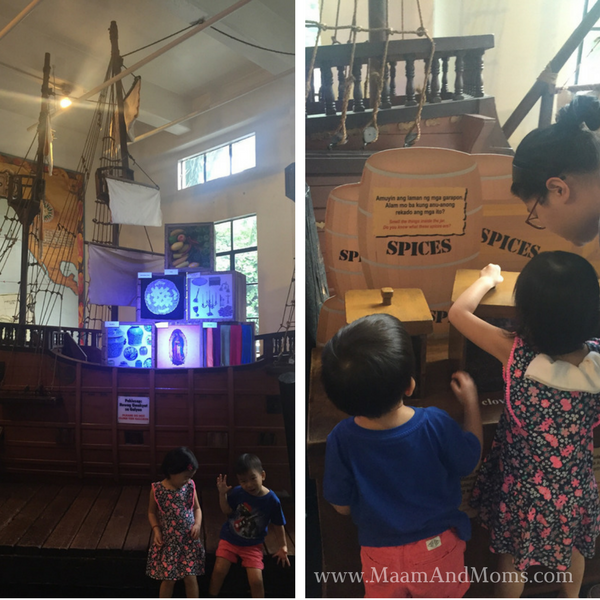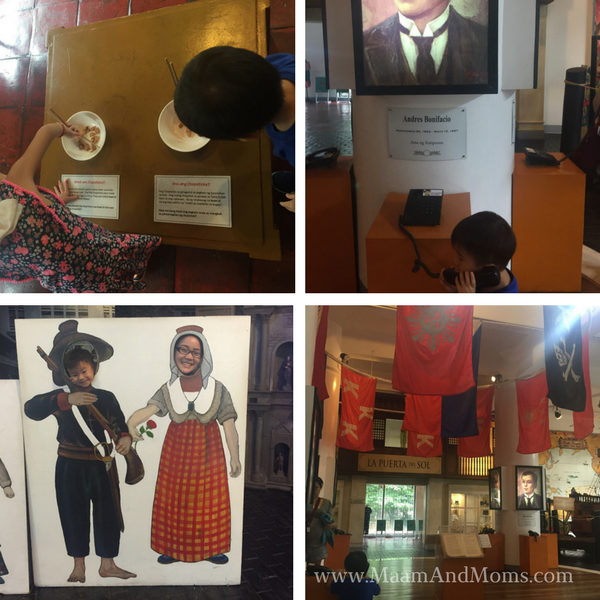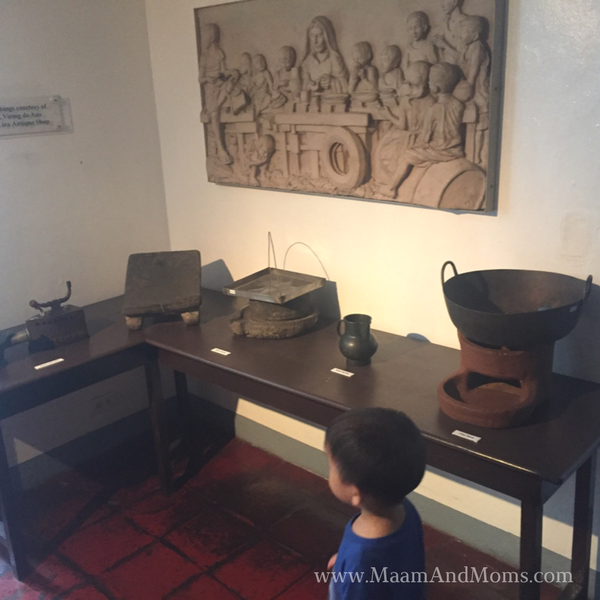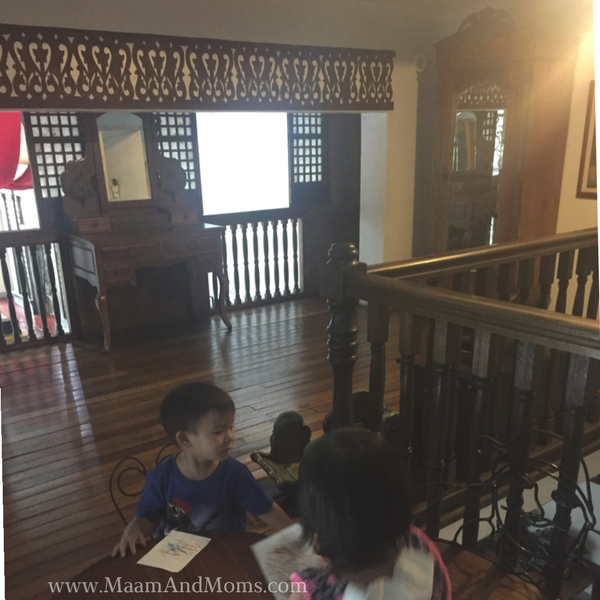 What appealed to little P – The typewriter, the little sets of furniture in the stone house, and the jeepney.
2 – Kalikasan / Environment
This room is probably one of MY favorites! It has a seabed where you see creatures you see underwater, had some real sea shells, a room of preserved insects, simulated rainforest, rice field, bahay hilot, and bahay kubo. There's also a section with information which explains about the food chain and the life of trees.
I wasn't able to take much photos in the seabed section because I was asking the room guide about the role of the mangroves. There were also some creatures hanging on the ceiling like the dolphin, shark, jellyfish, and seaweeds.
Although little P loves the water, he probably can't quite understand how we were actually in a room of a pretend seabed. I just posted these two photos of his favorites – the divers and he also asked me to take a photo of him in the starfish.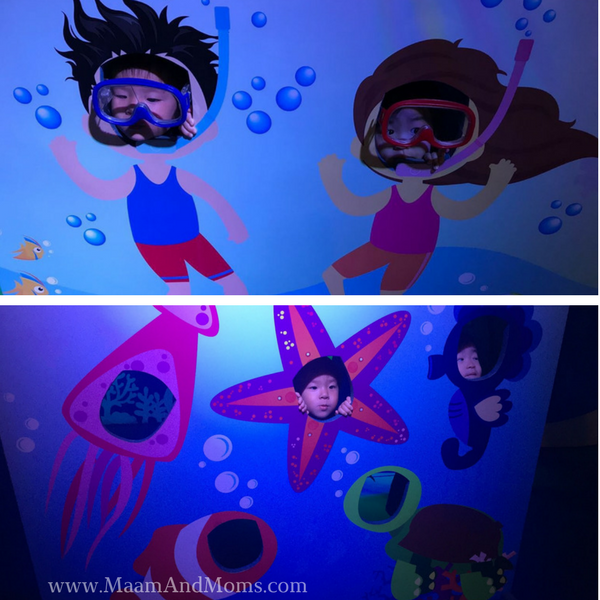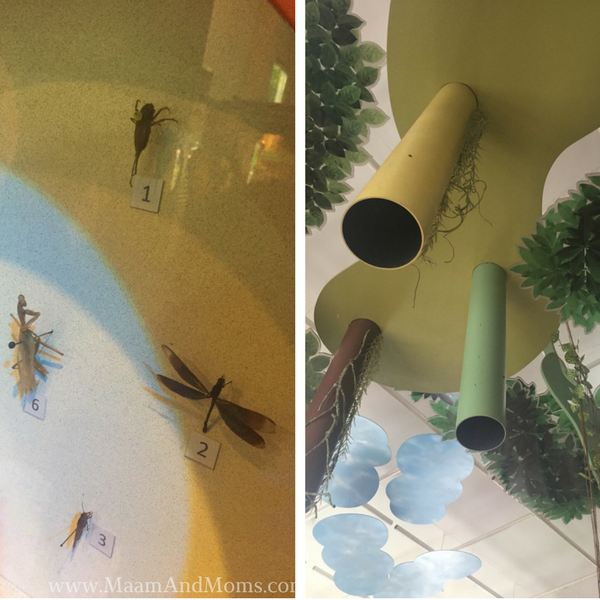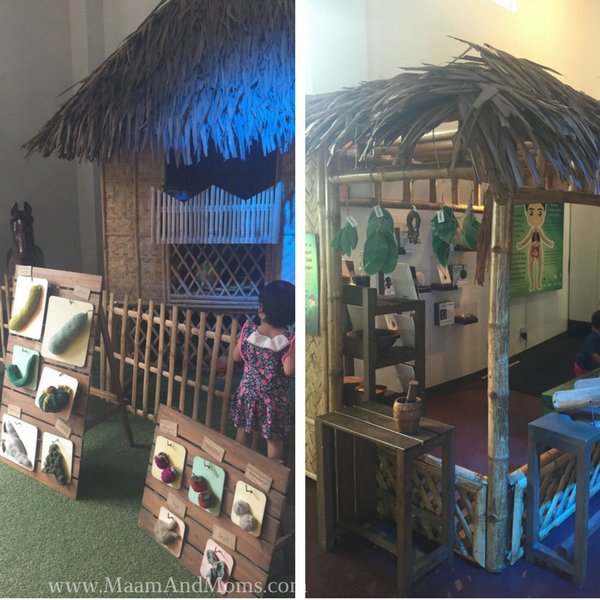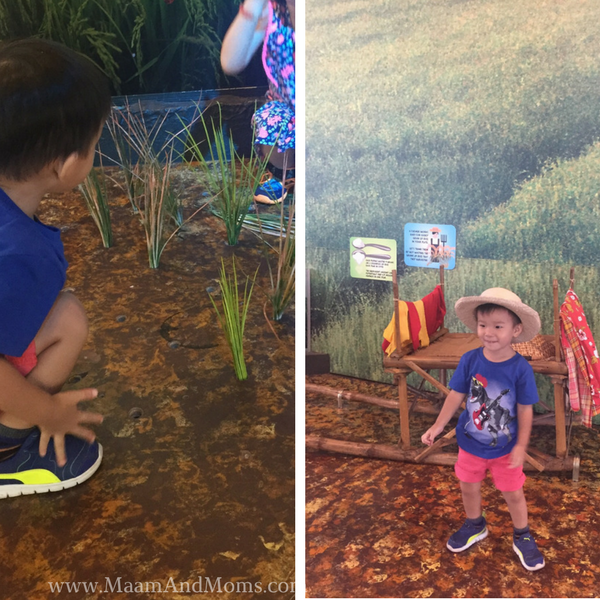 What appealed to little P – the preserved insects and the slide 🙂
3 – Bata sa Mundo / Children in the Global Village
Here, you'll see a glimpse of the children from around the world through the dolls displayed in a shelf. I wasn't able to take a photo of it since it didn't really interest Little P probably because of how a bit cluttered the display looked like. It wasn't unorganized but was very full. It was the instruments in the room which caught the kids' attention probably because they're more interactive than the display. There was also a room with the historical landmarks of Manila recreated using corrugated boxes.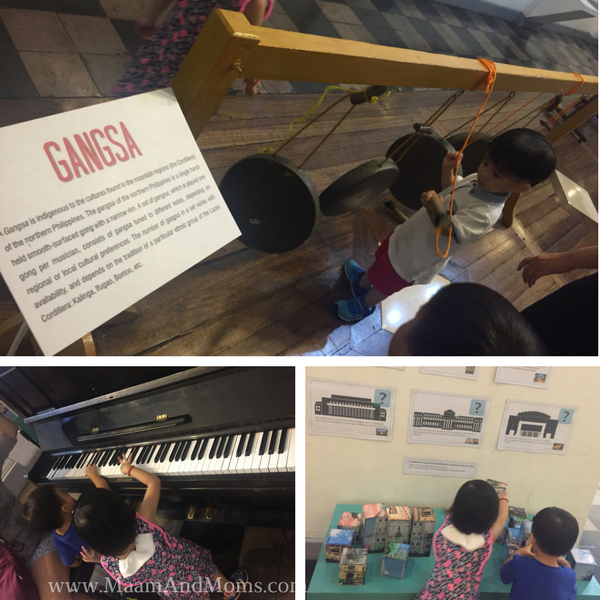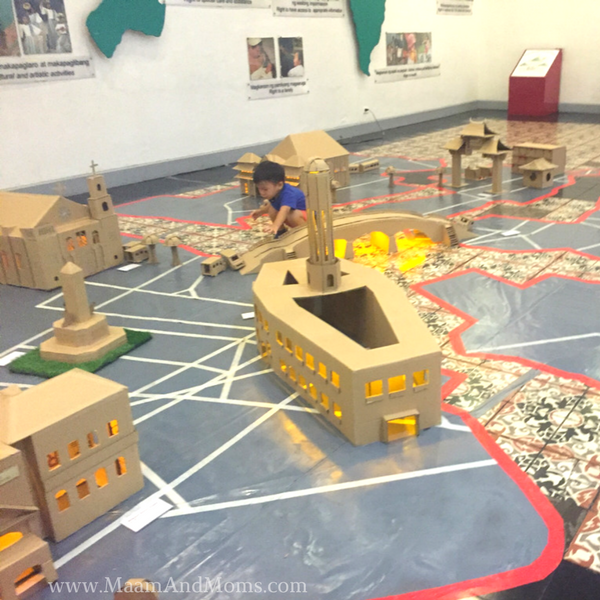 What appealed to little P – the gongs (GANGSA), the piano and the historical landmark models
4- Katawan Ko / My Body Works
Going to this room was my most awaited one based on my memory of this place. I was a little disappointed though that I did not see (or overlooked?) some of what I was expecting (touching different textures, smelling different scents) but it was still fun and educational nevertheless. It was a very interactive way of knowing how our body works!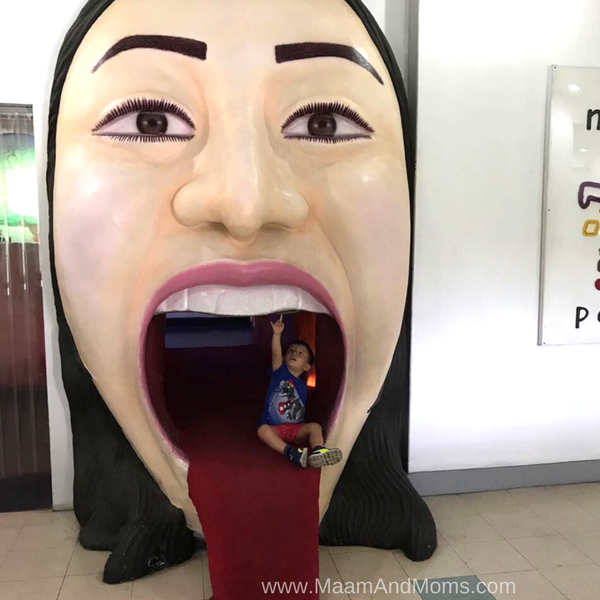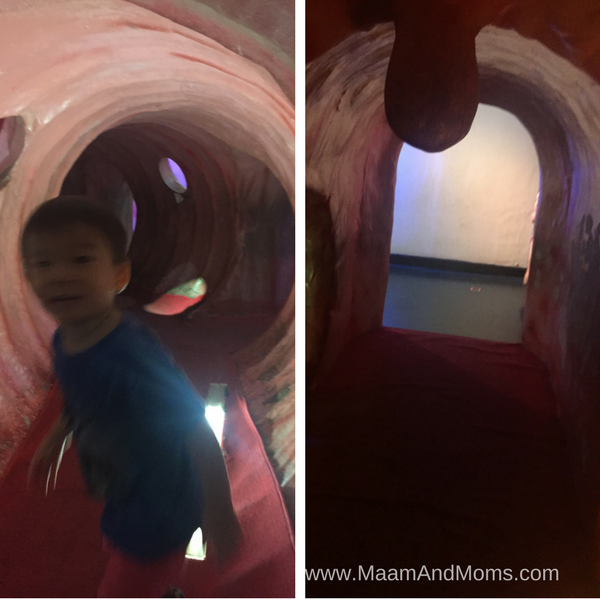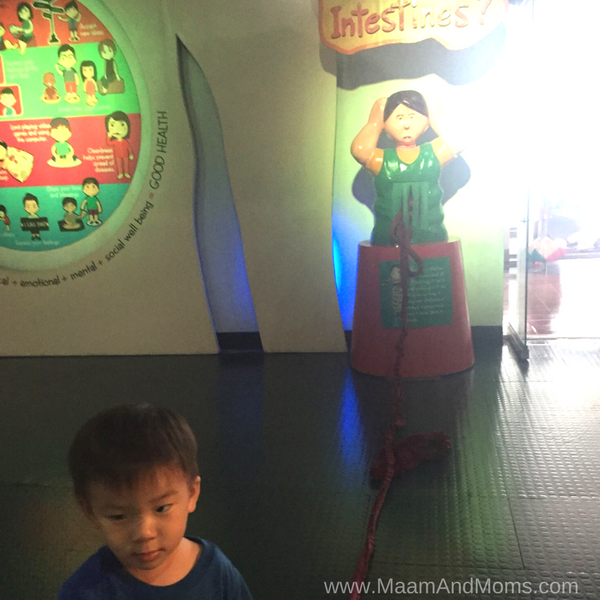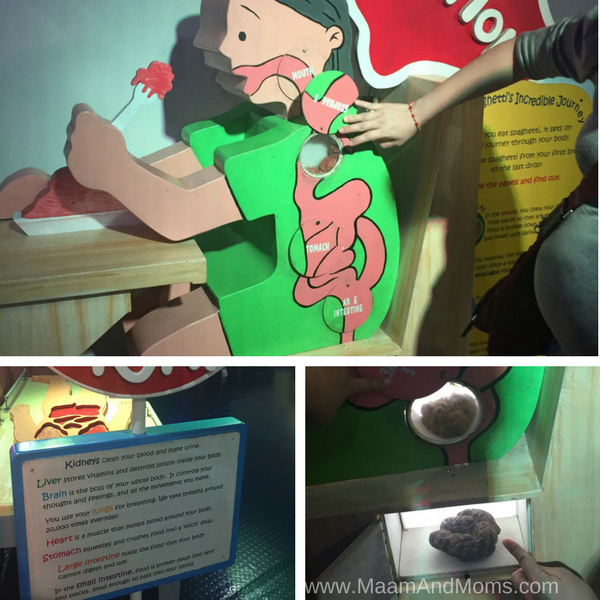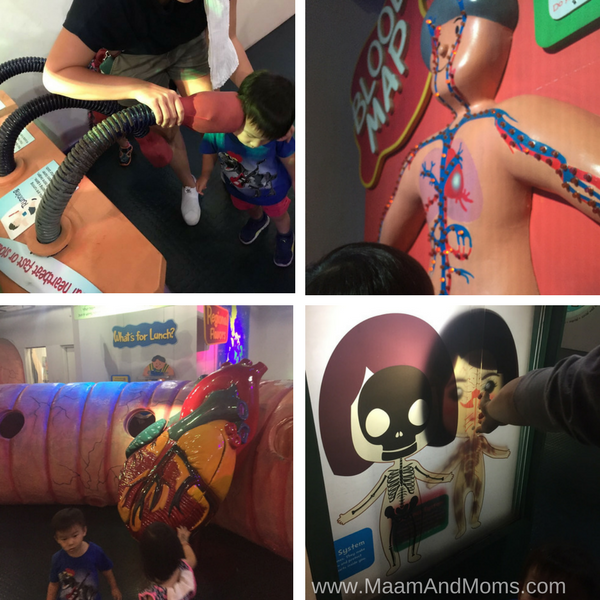 What appealed to little P – the simulation of how food is digested and entering the mouth which brought him to the throat and esophagus.
5 –Pamilihang Bayan / Marketplace
This is one of the room where we stayed the longest time.  It had a row of shops typically seen in the Philippines.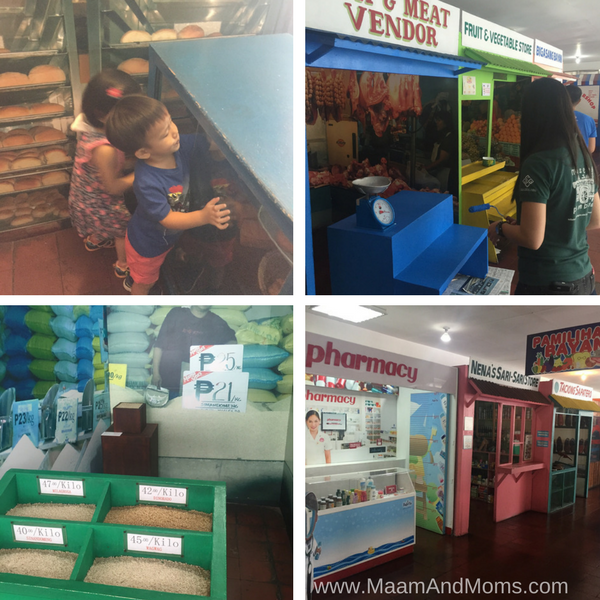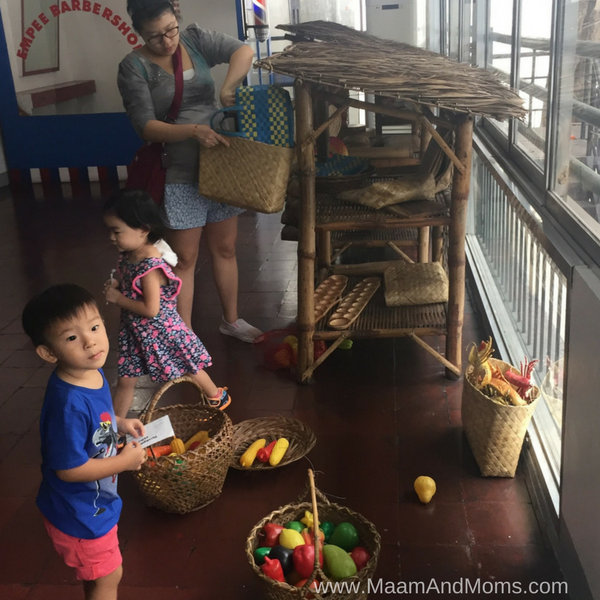 What appealed to little P – the fruit baskets and the breads at the Panaderia!
6 – Paglaki Ko / Career Options
For this section, I don't know if I missed the others but I only saw the firetruck. You can try hopping into the firetruck and wear a firefighter's outfit.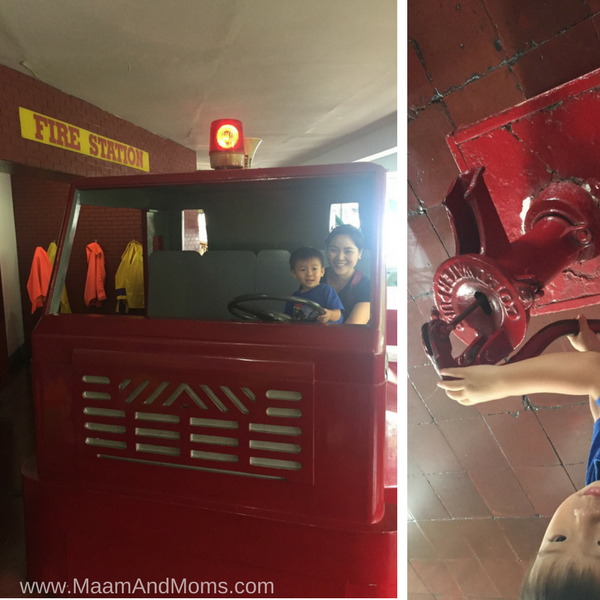 What appealed to Little P – the firetruck itself especially driving it! He didn't want to try on the outfit though.
7 – I love My Planet Earth
This is probably the room that is most important to humans but was the least interesting to me and Little P. It was probably because both of us were already tired and I think that the topics were already a bit abstract for him like climate change and global warming. There were sections about garbage collection and water conservation but they were more of visual than interactive. I knew I could explain the topic to him in a simple way but I guess I was already tired and a bit sleepy at this point.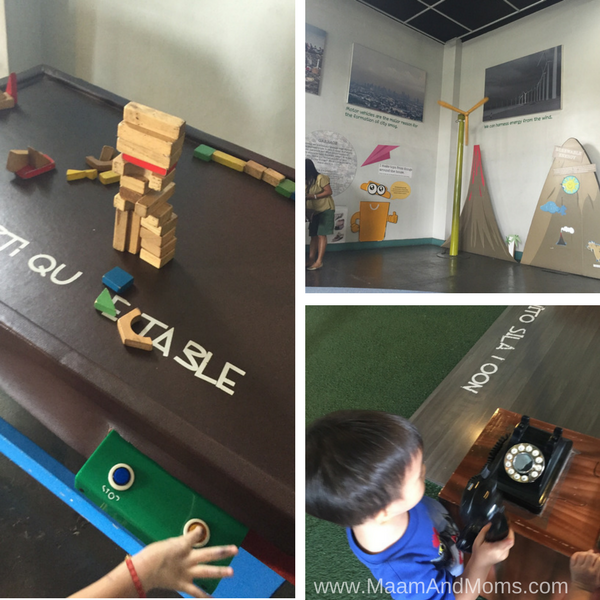 What appealed to little P – The earthquake simulation because he loves building blocks!
8 – Aklatang Pambata / Children's Library
There was a library of books and connected to it was a very interesting room which explains details about how to write a book, illustrate a book, and tell stories in an interesting way.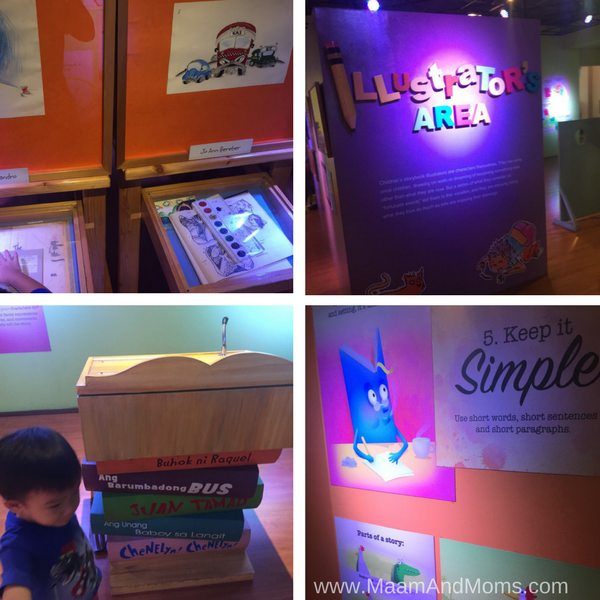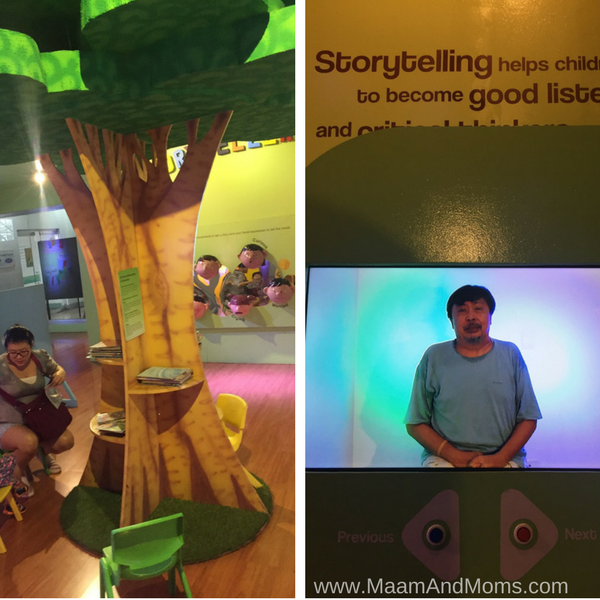 What appealed to little P – the reading nook where he made me read a few books to him
9 – The Playground!
It was drizzling but we still went to the playground because he's been looking forward to seeing the helicopter since we arrived! It was interesting to see the helicopter's interior. It looked real inside except that it doesn't have any passenger seats.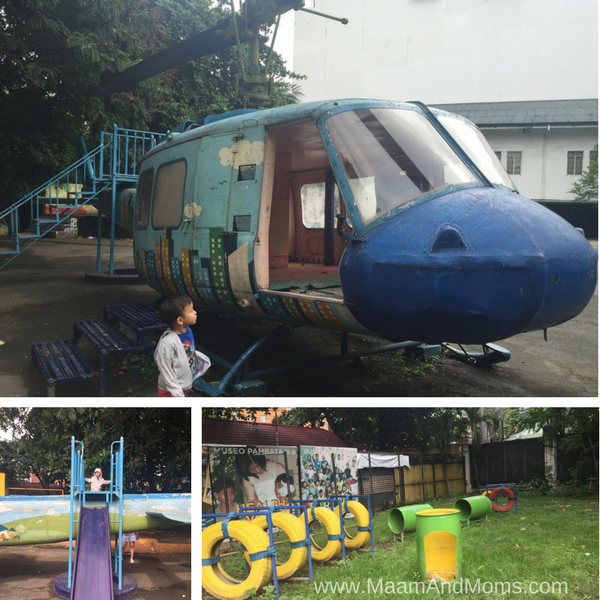 What appealed to little P – everything especially the helicopter and slide!
It was definitely an information and fun-packed trip! Little P seemed to have enjoyed our field trip and I knew it because of the stories he told his papa! It was actually my way of evaluating if this trip really had any impact on him or not! At first he just kept on repeating how he enjoyed the slide and helicopter but later on told his papa about the things he experienced in the Body Works section.
I seem to like the older version (more than five years ago) of the Museo Pambata, but what they have now is still much better than just staying within the four walls of the classroom! There were some parts that could have been made more interactive like the ones in the Planet Earth section. But with the ticket price of P150 (discounted), what we experienced was already superb!
Tips:
Bring a bottle of water for yourself! I was Little P's personal tour guide so I got thirsty and really ran out of breath a lot of times because I had to explain to him a lot! It was pretty easy to explain since there were captions and also guides in the museum who answered our queries.
Just choose to go the whole morning or the whole afternoon instead of taking a lunch break in the middle. The kids were already a bit sleepy in the afternoon. If you have a younger child (below four), it would also be great to prioritize going to the following sections first: Environment, Body Works, and Marketplace.
Choose a non-peak season like ours! It was a breeze going around! No lines!
Bring your kids here only if they already have an idea or have already read books about most topics inside the museum. It will be much more fun! In our case, we discussed a lot about body works (through books and during meal times) so this section seemed to have a lot of impact on me and little P. This could also be a culminating field trip after months of discussion covering themes inside the museum.